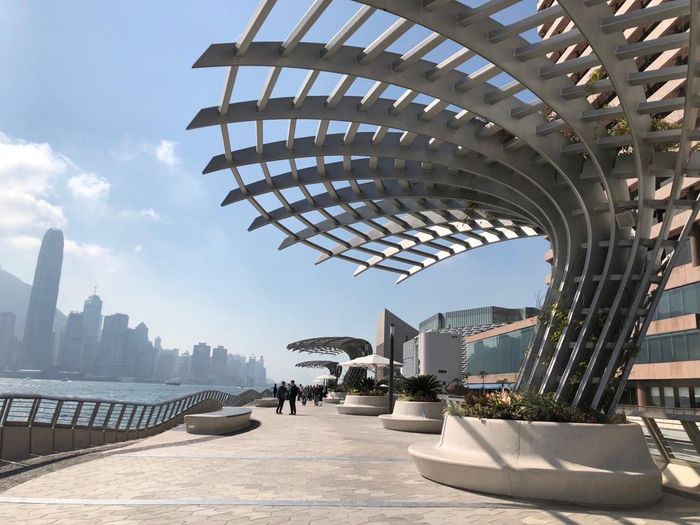 https://soundcloud.com/ferry-fortune/tsim-sha-tsui-1?in=ferry-fortune/sets/guide-english
Learn more about it

Formerly known as Heung Po Tau, Tsim Sha Tsui is one of the commercial and civic centres of Hong Kong; many hotels and transport hubs were built in Tsim Sha Tsui back in the British rule era. For example, the former Kowloon-Canton Railway Clock Tower stands next to Tsim Sha Tsui Star Ferry Pier, one of the few remaining colonial icons in Tsim Sha Tsui, and a popular location for many Hong Kong dramas and films. Near the clock tower is 1881, which used to be the headquarters of the Hong Kong Marine Police and has been revitalised into a shopping and tourist attraction, where you can dine and browse the shops and getting to know more about Hong Kong's century-old history.

The scenery of Victoria Harbour is picturesque, while you take a stroll along the Tsim Sha Tsui Promenade, you can enjoy the spectacular views of Hong Kong's skyline. During the daytime, you can get a close-up view of the modern architecture on both sides of the harbour, while at night you can enjoy the nightly multimedia spectacle with light, laser and sound - "A Symphony of Lights", it is the top sightseeing attractions of Hong Kong.

Another popular attraction in Tsim Sha Tsui is the Avenue of Stars, where you can admire the handprints of celebrities on the wooden handrails with QR code, from which you can learn more about the superstars. Also, you may take a closer look at the bronze statues of Bruce Lee, Anita Mui and McDull near the entrance at East Tsim Sha Tsui. The Avenue of Stars will also hold various types of events from time to time. We recommend you to visit the website of the Hong Kong Tourism Board for more relevant information.